From 2008 to 2017, Young Star New Vision in Performing Arts has been the most forwarding-looking and enduring project grant of the National Culture and Arts Foundation (NCAF). Within just a few years of development, the 48 grantee young artists have evolved from novices with inconsistent output in the early stages of their projects to key contributors to contemporary performing arts currently. However, although the direction of this project grant remains steady, its terms and details have constantly been adjusted. It is indeed necessary to examine its ability to adapt to the overall artistic and cultural environment in the future.
I. Positioning and Operating Method
In its initial stage, NCAF's Young Star New Vision in Performing Arts was planned to fulfill at least three obvious needs—filling the vacancies in the performing arts ecosystem, balancing the grant mechanism, and supporting independent artists.
As far as the vacancies in the ecosystem are concerned, Young Star New Vision is what first comes to the minds of graduates from colleges in Taiwan or those returning from study abroad. For newcomers, it is difficult to attract a wider audience other than their friends and family to view their creations or performances. NCAF provides a stage for young talents through project-based support, drawing the limelight on new artists as an endorsement of their prowess. For new artists, leaving the comfort zone at school—where they are surrounded by friends and teachers—and exposing themselves to public and formal artistic scrutiny is indeed a rare opportunity.
As for the grant mechanism, since regular grants are limited in quota, even senior artists who deserve aid are often left out. New artists, who are not familiar with writing proposals and without impressive credentials, really struggle to have a share of financial support. In this regard, project-by-project grants ensure new artists have the opportunity to be seen and balance the distribution of financial aid.
The third need, and most important one, is the support for independent artists. The Performing Arts category of NCAF's regular grants is normally restricted to group applicants, while individual artists are not eligible. This rule was prescribed to improve the industrial soundness of the performing arts and enhance the importance of administration, but it has also made the grants unfriendly to artists who lack resources to form a group. Particularly, many people who have just completed their education are still doubtful about whether they should dedicate themselves to the arts. Enthusiastic about artistic creation as they are, they might have no money or space to do so, not to mention the unrealistic dream of forming a group. Of course, one option is to join an existing team to have a share of richer administrative and productive resources. However, creating or producing in existing groups does not always allow new artists to exert their specialties, and few teams actually have the spare resources to form alliances with new artists. Young Star New Vision in Performing Arts accepts applications from independent artists and provides venues, technical support, publicity, administrative support, and even mentorship, making it the ideal resource for new artists. Most of the artists who have worked under this project gained the partnership experiences they needed to form their own teams.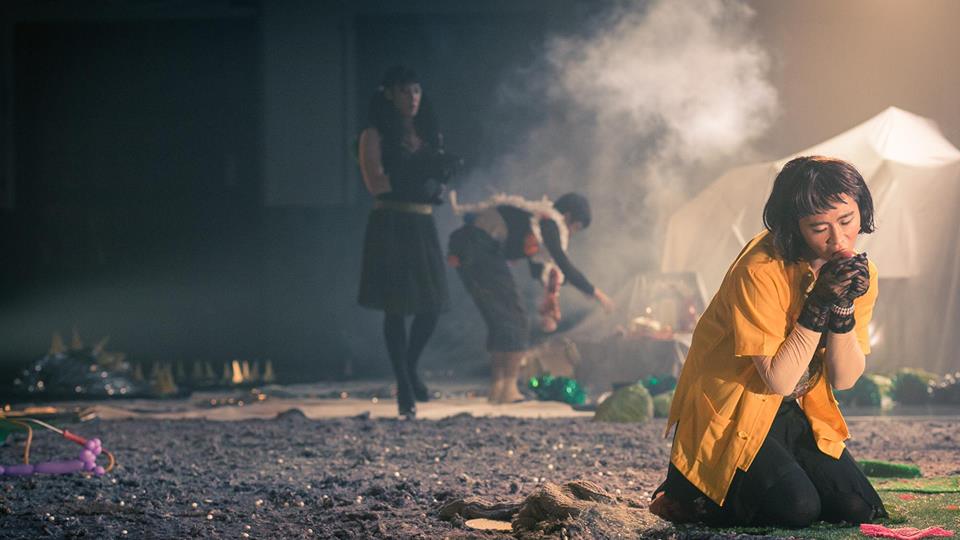 Huang, Ding-Yun, To Wu He—Chaos in Chronicling (2016)
Looking back at the last ten years of the project grant, it might be hard to imagine how new artists could have obtained opportunities for their work had it not been for the support of Young Star New Vision in Performing Arts.
Since 2008, the Taipei Fringe Festival has been held at the end of every summer. Characterized by conventional spaces and small theaters, it supports artists by providing spaces but does not offer funding for production. This is an opportunity of increased visibility for amateur performers (many of whom are from groups of mature-age performers) and young artists (many of whom are students). An advanced opportunity is the National Theater & Concert Hall's (NTCH) IDEAS Lab-R&D Project. It offers relatively ample financial support for new works by up and coming artists. Young Star New Vision in Performing Arts connects these two mechanisms. Many young artists have made their progress from the Taipei Fringe Festival to NTCH IDEAS Lab-R&D Project through Young Star New Vision.
It was not until 2015, when Songshan Cultural and Creative Park's Creative Lab launched New Points on Stage@Lab to offer venues and production funding to 3 selected artists from various fields on a yearly basis, that Young Star New Vision finally had a competitor. The two programs are similar in many aspects, including funding, the interview-to-audition selection method, the innovation mission ("new vision" vs. "new ideas"), and even the supporting role of "mentors" or "advisors". However, starting from 2014, Young Star New Vision in Performing Arts launched nation-wide tours consisting of 7 sessions in 3 locations, thus making it a far superior program in terms of promotion.
In addition to performance, review also plays a crucial role. In 2011, NCAF launched the online platform Reviewing Performing Arts Taiwan, which invites in-house reviewers to offer regular reviews and accepts submissions from external people. As a result, performances are much more likely to receive reviews, which allows works from new artists to become more visible and more discussed. At this point, the whole ecosystem can be said to have finally become comprehensive.
II. Venues and Co-Organizers
The scale of grants offered by Young Star New Vision in Performing Arts has also undergone a few changes. These changes are discussed as follows.
From 2008 to 2012, NCAF and NTCH cooperated to schedule performances from various categories under Young Star New Vision at the Experimental Theater. The advantage is that the Experimental Theater has professional lighting and basic audio equipment, along with a mobile auditorium. However, due to the joint performance of two to three works in each session, it was usually necessary to adopt a uniform auditorium arrangement to make transitions smoother. The production costs and space planning were an even tougher challenge. Normally, the top choice for small performance venue is the Guling Street Avant-garde Theatre, which can house around 60 seats. The capacity of the Experimental Theater is three times that. As a result, the scale and production costs are also multiple times larger in terms of stage devices, lighting, and projection. The larger space is also more demanding in terms of the directing skills of directors and choreographers. In such a top-notch venue among small theaters, works were larger in scale and as a result their planning also became more difficult. Moreover, audiences in a national-level theater have higher standards and expectations. New artists were no longer able to handle the technical and aesthetic issues and now had to rely on professionals. Although this could help them accumulate experience in collaborative projects, it also gave newcomers the pressure of handling big projects. Therefore, the question about how to support new artists "step by step" was frequently raised in those days.
Due to the tight schedule of its own shows, NTCH eventually terminated its partnership with NCAF. In 2013, Young Star New Vision began partnering with the Taipei Fringe Festival. Performances were held at Wenshan Theatre and Guling Street Avant-garde Theatre in a scale slightly smaller than that of the Experimental Theater. The project grants used to encourage artists to organize tours themselves, but from this year onwards, NCAF began organizing tours actively at 3 locations outside Taipei.
The performances at Songshan Cultural and Creative Park's Creative Lab for three consecutive years since 2014 clearly helped to bring New Points on Stage@Lab into being. Songshan Cultural and Creative Park did not have professional theater equipment, so it had to be set up from scratch, which increased the expenses of equipment. The advantage is that the space planning could be more flexible, but the issue of multiple works sharing the same stage remained. In addition, since 2014, tours of grantee works have invariably taken place at small theaters in Taipei, Yuanlin, and Kaohsiung. Although this program offers new artists the opportunity to be exposed to more audiences, expand their market, and accumulate their performance experience, the inconsistent spaces of the theaters in these three locations forces some interactive performances to change to fit end stage theaters during the tours. Since 2017, the Taipei venue has been changed to the newly opened Multi Hall (multi-purpose hall) of the Taiwan Traditional Theatre Center, which has better professional equipment, while venues in Yuanlin and Kaohsiung remain unchanged.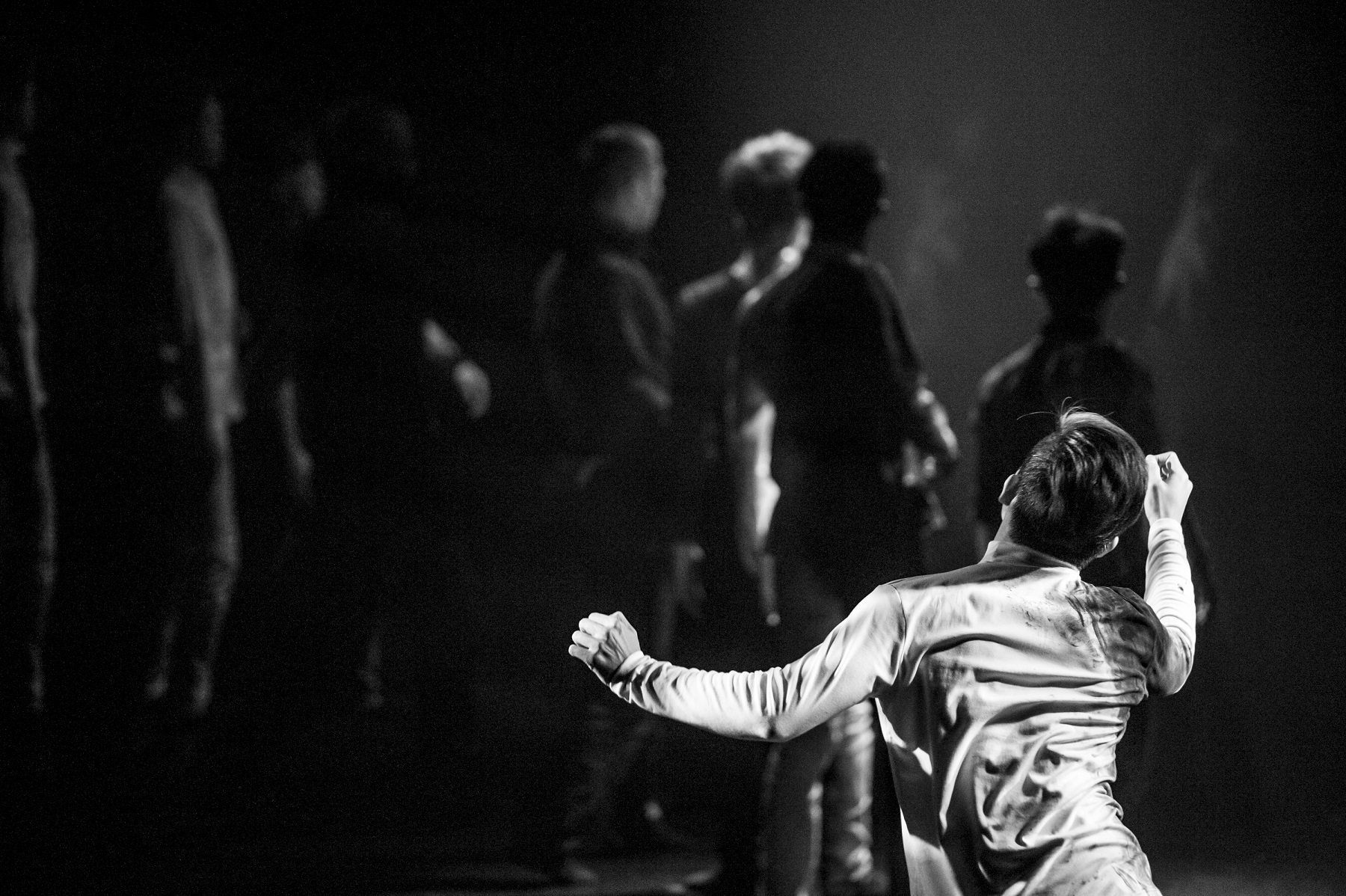 Chang, Kuo-Wei, The Deconstructed Aesthetic of the Body: Muscle Philosophy (2014; photo by Ogawa)
A fixed venue allows applicants to picture the scales of their works, something that makes this program attractive. However, the excessively great differences in conditions among tour venues also becomes an obstacle to the individuality of these works. While more resources are being invested, artists are also faced with the situation that different versions of their works must be rehearsed to meet the various requirements of various venues, including more technical coordination. Nevertheless, these can be regarded as precious practical experience.
III. The Necessity of New Artists
The most frequently raised question for Young Star New Vision is whether the focus is on "young star" or "new vision". Do new visions necessarily come from new artists? Do new artists always have new visions?
The two do not guarantee each other, nor do they have to. As I explained in the first section, Young Star New Vision pursues the balance and fairness of the system by offering new artists more resources and opportunities. After all, four decades have passed since Taiwan's modern theater movement began in 1980. During this period, performing arts teams have continued to grow in number. However, the market is limited in scale. When the volume of productions nears market saturation and the teams supported by the government are operating stably with a low replacement rate, it is increasingly unlikely for new artists to make their presence felt and survive in this industry. In fact, creating larger room for more exploration is a commitment shared by the Taipei Fringe Festival, Young Star New Vision, NTCH IDEAS Lab-R&D Project, and New Points on Stage@Lab.
Succession by new artists has long been a goal of the mechanisms of countries with flourishing performing arts. In France and Germany, it is common to see artists aged 30 to 40 being appointed as art directors of a government-run theater or local arts center, or director of a major arts festival. For example, Thomas Ostermeier took up the post of director of the Schaubühne am Lehniner Platz in Berlin at the age of 32. Olivier Py also took up the post of director of the Centre Dramatique National Orléans in France at the age of 32 and became the director of the Odéon-Théâtre de l'Europe in Paris at the age of 42. Emmanuel Demarcy-Mota became the director of the Théâtre de la Ville in Paris at the age of 37. At the age of 41, he took charge of the Paris Autumn Festival. These are just a few famous examples. But this is not a trend that naturally took shape in the free market, but the result of state-implemented cultural policies.
In Taiwan, artists under 30 are generally regarded as "newcomers", who lack resources and opportunities of public performance. Without sufficient opportunities to gain experience, it takes a longer time for these artists to achieve artistic maturity in comparison to those from Europe. One reason is that our conservative society attaches more importance to age and experience. Another reason is that cultural authorities lack the imagination necessary for social reform and artistic innovation. It is therefore urgent to provide new artists with opportunities and continuous support so that they can push themselves and future generations in a healthy competitive environment. The Young Star New Vision program explores new possibilities by integrating resources and cooperating with venues. Although it is constantly being adjusted, the overall direction remains resolutely consistent—to keep Taiwan's performing arts alive and find a way out for their future. More than 70% of the 48 grant recipients from the past ten years are currently working full-time in related fields. Some are working with teams formed by themselves or teaching in related departments at universities, and most of them have also been invited to international art festivals or workshops, or participated in arts residency programs. Even with quantitative data as the criterion, the program's impact on the arts ecosystem is quite significant. Many interviewees pointed out affirmatively that the grant made crucial contributions to their entry into this industry, either in terms of their personal creative ideas or their subsequent acquisition of external resources.
In terms of artistic value, we can also see the prominent presence of these artists in contemporary theater and dance. In theater, Sunteck Yao, Vera Chen, Chun-Chan Wei, Shih-Ying Chen, Chen-Yu Huang, Ming-Chen Li, Kang-Hua Chang, Wei-Yao Hung, and Ding-Yun Huang have all become artists with distinctive styles. In dance, I-Chin Lin, Nai-Hsuan Yang, Chieh-Hua Hsieh, Ming-Hwa Yeh, Hsiao-Tzu Tien, Yu-Ju Lin, Yen-Fang Yu, I-Fen Tung, Su-Lien Lin, Yen-Cheng Liu, and Chen-Wei Hsu have also become prominent figures. Moreover, a grant scheme tailored to individual applicants is more friendly and attractive to dancers and has also inspired many dancers to try their hand at choreography. In addition, new media and documentary artist Tung-Yen Chou, new circus artist Yi-Ju Fang, and writer and experimental video artist Shu-Hsun Yu all took their first experimental steps under the support of Young Star New Vision.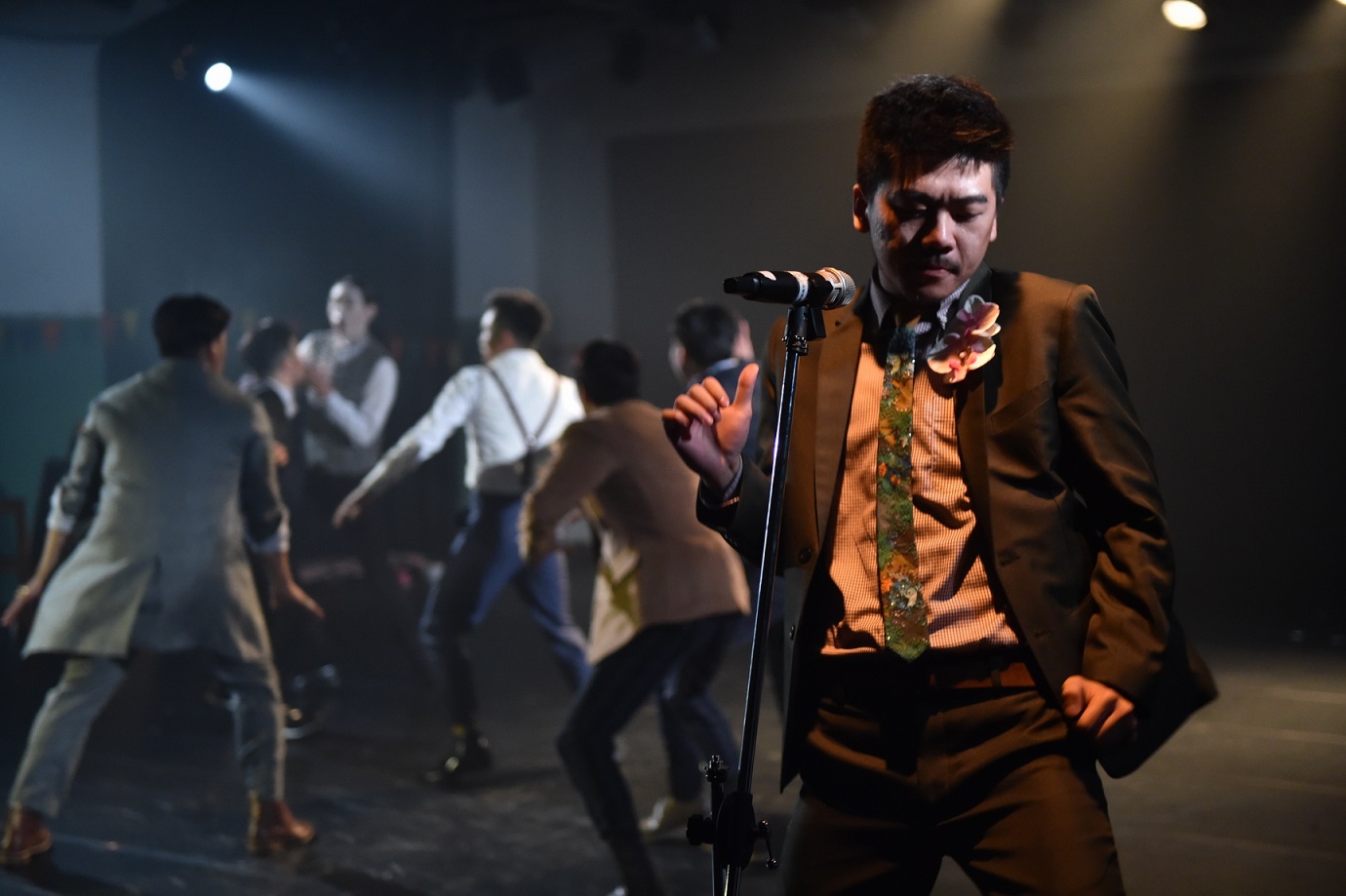 Hung, Wei-Yao, Wet Dream (2015)
These visible results are a testimony to the impact the program has had over the past ten years. As for how to make adjustments according to circumstantial changes in the next ten years, it may be a topic for further discussion.
IV. Review and Future Outlook
In the Music category, although there have been applications and some have made it to the shortlist, only two composers have finally received the grant in the past ten years. Since Taiwan's music education focuses on performance, there are fewer composition talents. Moreover, under the criteria of Young Star New Vision, musical works must be presented in the form of music theater in order to compete with other projects. Unfamiliar with theater, most composers have to rely on their partners' command of theatrical elements. As Taiwanese audience privilege musicals over music theater, there are very few related precedents or experiences theater for these artists to learn from. If we cannot develop the self-containment of music and have to rely on supplementary theatrical elements, a project of this nature is quite likely to end in failure.
However, Young Star New Vision is never looking for safe and refined productions, but for creative and daring works. This might be the Achilles' heel for musical works—people are not so easily attracted to the creativity or risk-taking originality of a piece of music. If we don't change the rules for the competition, musical works are still likely to struggle in the future.
Maybe there is an alternative to solve this problem. As inter-disciplinary art has become the global mainstream approach to arts, Young Star New Vision is ready for the transition to inter-disciplinarity with its mixed evaluation system. Perhaps the selection should not be based on traditional categories but on open-ended, cross-genre ones, so that music can find its niche through more unrestricted collaborations.
In addition, statistics also show the undeniable fact that most recipients are from the following two arts universities: Taipei National University of the Arts and National Taiwan University of Arts. Although this reflects the reality of the ecosystem, lifting the restriction on the maximum post-graduation period may still allow more "newcomers" and inter-disciplinary artists outside the academy to have the opportunity to join. This change started in 2018 and it is worth following it up over the next few years. Moreover, the composition of review panels may also be one fundamental reason for the homogenization of winners. Since these judges already dominate the teaching direction and value criteria within the academy, diversity won't thrive if the distribution of resources outside the academy is still decided by the same group of people. Consider what Ming-Chen Li pointed out in an interview: "Having graduated from school, I may want to do things that I wanted to but was not quite able to, things that are not quite approved and permitted at school. Now, I want to do this kind of things as soon as possible to open some new possibilities." In this regard, perhaps it would be productive to introduce more inter-disciplinary judges from outside the academy and get more young people (such as past recipients of Young Star New Vision) involved, thereby allowing more space for things that were previously not approved and permitted.
As for the current eligibility criteria, all applicants are eligible regardless of how many times they have made applications or won as long as they fulfill the requirements. This rule may also need to be reconsidered. Since "new" artists who have received grants have already had opportunities to draw public and critical attention to their works, this project might fail to adhere to its principle if the grants are offered to the same artists repeatedly. A more viable direction would be to reserve the awards for the actual "newcomers" and use other grant mechanisms to continue fostering artists who have already been sponsored by Young Star New Vision, so that the development of the overall ecosystem can be more balanced.
As for supporting measures, there should still be room for adjustment in the future in terms of the selection of venues, especially in finding more flexible venues that can meet the needs of different grantees equally and even avoid limiting the forms of their works due to joint performances when planning a tour. If joint performance can become optional to give more divergent works an opportunity to be performed publicly, this may better align with the transgressive spirit the world is currently pursuing and encourage applicants to attach more importance to the idea of "new vision".
After ten years, the growth curve of Young Star New Vision has come to a beautiful landing point and the scheme can be said to have turned into a successful brand. Looking forward, maybe we can also hear feedback from future applicants, so as to turn this program from a threshold criteria for budding performing artists to a repository of support for them. Perhaps only by understanding their true needs can Young Star New Vision head towards a new growth curve!
*Translator: Linguitronics