Foreword
International exchange has always been a major category of grants by the National Culture and Arts Foundation (NCAF). The current results and statistical data on the International Cultural Exchange archive show continuous growth in the overall quantities of international exchange activities. As for non-quantitative long-term trends, the international experiences of groups are not limited to production (final products), but are enriched by reflecting on the nature of cultural exchange/communication, thus achieving self-understanding through cross-regional and cross-disciplinary coordination and communication. The COVID-19 pandemic began to spread globally in January 2020. In response, NCAF offered project grants to artists and artist groups through the Beyond COVID-19 Program, which encouraged art professionals to develop innovative and diversified exchange projects during this transition period. Formally speaking, the project grant may be regarded as a grant program to encourage international exchanges in more diversified ways during the pandemic in response to its disruption of international travel and traditional (i.e., pre-pandemic) modes of exchange, that is, larger environmental factors. In my view, this program has two characteristics at first glance: one is economic. This program still has the function to provide "active relief" to artists to sustain their living and the operation of their teams during the pandemic. The other is "bricks and clicks". Through the incentives provided by this program, the wealth and diversity of exchange channels accumulated under the support of past international cultural exchange grants can be transformed or perpetuated via "digital transformation". This article summarizes the four editions of the Beyond COVID-19 Program (Performing Arts category)
1
implemented from 2020 to 2021 and preliminarily explores potential situations and issues in the digital transformation and online system building of artist groups during the pandemic, so as to provide reference for future international exchange activities.
Classification and Summary of the Four Editions of the COVID-19 International Exchange Support Program (Performing Arts Category) Grantee Projects
As stated above, NCAF's Beyond COVID-19 Program encourages art professionals to develop innovative and diversified international exchange projects during the transition period of the pandemic. From 2020 to 2021, the Beyond COVID-19 Program (Performing Arts category) was implemented four times in total. Grantee projects included cross-national online exchanges, performances, preliminary research, and website and database translations into foreign languages.
The grantee projects during these two years can be roughly divided into the following 8 categories: (1) Website updating (bilingualization/multilingualization and optimization); (2) Digital archiving; (3) Preliminary research or cooperative presentation of cross-national productions (preliminary research aimed ultimately at physical performances); (4) Online non-performance exchanges (artist residencies, forums, courses, workshops); (5) Online performances; (6) Content translation; (7) Work publishing (digital and print); and (8) Video production. Since some projects, such as those which published videos of online exchanges and digitized works on optimized websites, belong to multiple categories, the following section only describes the contents of each category without counting the number of projects belonging to each category.
(I) Website updating: This category can be roughly divided into three subcategories according to the content of individual projects. The first is bilingualization, platform building, and data uploading for integrated websites and self-media platforms, such as the online video archiving and website bilingualization of Flying Group Theatre. The second is the building of independent websites for existing international exchange projects and their outcomes, which simultaneously function as digital archives. For example, the contents of Shakespeare's Wild Sisters Group x Dainanagekijo x Mie Center for the Arts Present: Notes Exchange Anatomy Room are documented on a website and the links to the international network of the three-year Notes Exchange project are shared thereon. The third is the relatively simple website redesign and bilingualization, such as Müller x World: Müller Chamber Choir Website Upgrade and Digital Media Bilingualization Project.

(II) Digital archiving partly overlaps with website updating due to their shared requirement of data use and external communication. Other integrated digital archiving projects such as Bare Feet On-Line by Bare Feet Dance Theatre and HORSE Archiving Project by the dance troupe HORSE all include historical documentation from artists' written or oral accounts, website bilingualization, archive preparation, and other data compilation and archiving tasks from various stages.

(III) The main difference between preliminary research and cooperative development for cross-national productions is that the former still aims to put on physical performances after the pandemic comes to an end, while preliminary research or field surveys postponed due to the disruption of international travel during the pandemic are implemented through digital or online methods instead. In cooperative development, the resulting cross-national productions are directly made publicly available online. Projects of the former type include Ming-Hwa Yeh's Taipei x Bergen Co-Production Project: Preliminary Research and Development of Ming-Hwa Yeh's SHE: Images of Dance History According to Her. The latter includes the Taiwan-Germany Contemporary Music Co-Creation Project, a cross-national collaboration between the German flutist Katrin Szamatulski and Taiwanese composer I-Lly Cheng, which presented the final work in the form of a music video online.

(IV) Online non-performance exchanges (arts residencies, forums, courses, and workshops) include the 7 sessions of the six month-long online symposium Connect with SEA organized by Thinkers' Studio, in which conversations were carried out among owners, managers, and producers of independent organizations in Southeast Asia and Taiwan.

(V) Online performances include Studio Acht's 2020 Jeonju International Sori Festival Online Performance Project. While the international visit of this event was canceled by the organizer due to the pandemic, participation in the opening concert and other events by overseas artists was alternatively implemented in South Korea via live streaming.

(VI) Content translation projects include TOTAL Musical Theatre's script reading session and concert, which arranged the translation and adaptation of the musical You & It by EG Musical Company & Orchestra from South Korea.

(VII) Work publishing (digital and print) projects include Against Again Troupe's Against 18 Monograph Publishing Project, and the publication and international release project for Tradimento by the Italian publisher Ermes 404 in collaboration with artist Chia-Ying Lin.

(VIII) Video production can be roughly divided into two subcategories in terms of implementation method: The first consists of the filming and editing of existing works, which are made available through online performances or video platforms. Such projects include Formosa Baroque's Versailles II International Post-Production Online Sharing Session Project, which edited the video materials recorded during the ensemble's performance at the National Kaohsiung Center for the Arts (Weiwuying) in 2019. The second category refers to works produced in digital forms and methods during the pandemic, such as Hao-Yeh Wang's Several Interpretations of Home: An Inter-Disciplinary Digital Art Project Exploring the National Identity of Taiwanese People. The project was co-produced by Wang and four other artists based in three different locations, including choreographers Szu-Wei Wu and Yen Lee, video artist Yanina Isla, and sound artist Ng Chor Guan. The filming was done in Changhua, Taiwan, and Berlin, Germany. Two 6-minute solo-dance videos are expected to be completed and presented on a webpage on the existent website.
Again, most of the Performing Arts grantee projects on the list encompass the nature and features of multiple categories. This is due to the complexity and diversity of creative processes and the mixed use of data more efficiently. Therefore, the classification above is a rough overall picture of the grantee projects for readers' reference and easy understanding, not a precise or absolute classification.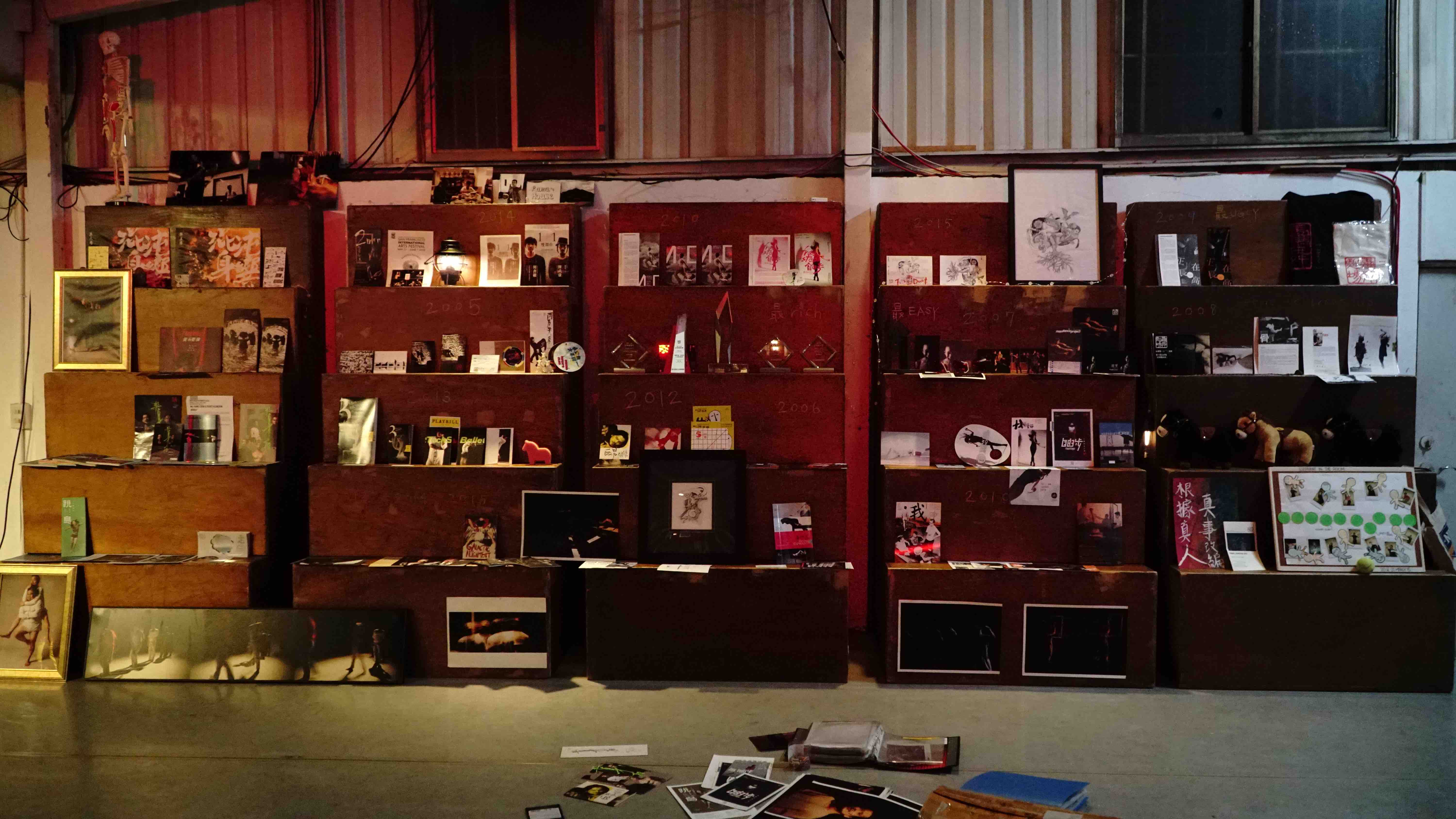 NCAF's Beyond COVID-19 Program—HORSE Archiving Project, by the dance troupe HORSE
Observations and Thoughts on Grantee Projects
I. The medium- and short-term "response to COVID-19" and the long-term "overcoming of COVID-19"
When I was on the review panel of the Beyond COVID-19 Program, I considered the judgment criteria and the methods of assessing the effectiveness of a project. In summary, I believe the following requirements should be fulfilled at a minimum: (1) The work's subject-matter or contents should respond to the social conditions during/after the pandemic; (2) The delivery/exchange media should overcome physical limitations or offer innovative alternatives; (3) The project should compile its own developmental history and establish an archive to help write the history of the industry, thereby developing the capacity for subsequent exchanges; and (4) The business model should be adjusted to foster management of industrialized financial and legal affairs. Generally speaking, the grantee projects mostly possessed the features (2) and (3) mentioned above. Furthermore, international exchange depends on long-term communication, interaction, and empowerment, which cannot be achieved overnight. Most projects were based on existing international exchange networks or existing in-person exchange projects of applicants. During the pandemic, the mode of interaction was changed to online methods that overcome physical limitations (among the very few exceptions which did not involve any online platform was Against Again Troupe's Against 18 Monograph Publishing Project).
The battle against the pandemic has lasted longer than any of us expected. Although there are signs of a temporary abating, it will still have a lasting impact on international exchange activities. In performing arts industry, individual artists, managers, artist groups, and venue operators or other stakeholders have adopted various strategies and policies with certain degree of effectiveness in response to the pandemic. At this point, I think these response measures should be defined as short- and mid-term plans, and it is too early to determine whether they are really able to overcome the pandemic and take advantage of transitional opportunities to create new demand, thereby becoming a plan fully adapted to the post-COVID-19 environment. For example, the multilingual websites or databases completed with the support of this grant still require human resources, funding, and other resources for future management and usage. Has this requirement been addressed in the long-term operational plans of the individual artists or groups, as to maximize their effect in international exchanges? Also, are the Internet platforms or online work models developed or established during the pandemic connected with the artist groups' sustainability strategy? All of the matters above must be observed and evaluated over a longer period of time to make fair judgments.
II. Physical-virtual integration of online systems and face-to-face model
In terms of the availability of online systems at a global scale, 2020 was a historic year. Due to the disruption of physical international movement and the limitation to the scope of activities, online systems gained popularity as means of communication. To align with this inevitable trend, most of the grantee projects utilized various online tools such as Internet platforms to varying degrees in order to overcome physical limitations. At first glance, Internet tools seem to have done away with physical limitations and lowered the threshold for international exchanges, which is in turn conducive to the expansion of the exchange scope; however, international exchange activities through Internet platforms might also increase competition. Artists and artist groups must think more carefully about the purpose and method of communication, consider the diverse perspectives of the market and audience, and adopt steady and continuous implementation methods. Otherwise, in the absence of physical contact and communication, the content of an exchange could be difficult to "disseminate".
The online systems and platforms used in the grantee projects and the content forms of these projects can be roughly divided into two categories: two-way simultaneous and on-demand. Events such as classroom-based lectures or forums and online performances are mainly two-way simultaneous. On-demand services, on the other hand, feature contents available on online resource platforms for the audience to view/experience whenever they please (on demand). Projects focusing on website optimization and archiving mostly belong to this category. Although both play the role of maintaining communications in the absence of physical travel, their operation methods and effects are very different.
Two-way simultaneous online systems still have a synchronized character despite participants being based in different locations. This means that participants can only carry out communication when they are synchronized. On the other hand, communication via on-demand online systems or platforms neither takes place in one location nor synchronously, and the only element shared by the participants is the information (contents). Without in-person and synchronized meetings, communication happens very differently.
During the pandemic, the biggest challenge for on-site stage performances, including theater, was that their physical, synchronized nature, heretofore a fundamental condition, was shaken. In summary, we may categorize the virtual and physical domains into three models, in terms of location and synchronicity: on-site experience-oriented (single-location and synchronized), two-way simultaneous (multiple-location and synchronized), and on-demand (multiple-location and non-synchronized). Before the pandemic, artists or artist groups probably only needed to take care of the "physical" matters. The pandemic has accelerated the trend of integration of the three aforesaid models and diversified operations by artists and artist groups. In the two-way simultaneous online stage, I think that the kind of "stage" experience viewers and listeners can share is still being explored. Such explorations include two-way experiments between artists who provide artworks/services and the audience members who receive the artworks/services. As for on-demand online platforms, the streaming service platform Netflix may serve as an example. This on-demand, subscription-based cultural consumer platform can be said to belong to a different cultural realm from that of the on-site stage experience. In performing arts, these two consumer models should be able to work together complementarily. The interaction and integration of the aforementioned face-to-face on-site experience, two-way simultaneous method, and on-demand service, I believe, are next-generation possibilities for international exchange in the post-pandemic era. This is not only an issue that performing arts industry must address, but also the key to the sustainable development of every arts group and venue.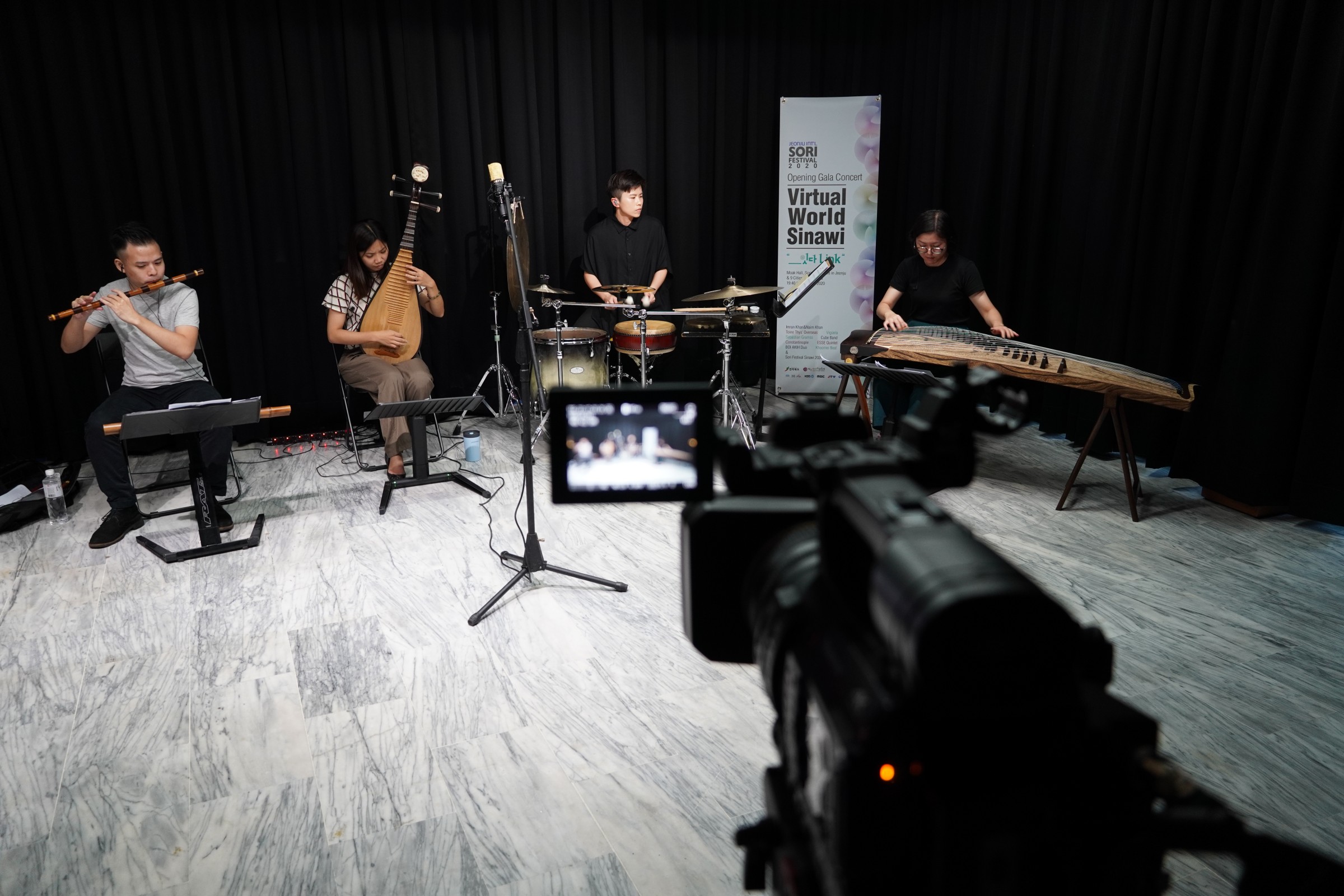 NCAF's Beyond COVID-19 Program—Studio Acht's 2020 Jeonju International Sori Festival Online Performance Project
III. The absence of a market/audience perspective
If we regard the grantee projects as the artist groups' initial attempt to carry out digital transformation, a decisive difference in comparison to related issues in commercial or business management is the absence of a market/audience perspective. In short, the grantee projects mostly take the perspective of the artists and artist groups. The feedback from information or content users seems to be absent from the pre-project online tool selection process or in the follow-up project effectiveness evaluation. On the other hand, speaking of digital transformation in online sales from the commercial sector, the traditional strategy is usually to "build an official website and increase exposure of projects on different e-commerce platforms or on social media like Facebook and Instagram". The strategy most likely to be adopted by digital natives is "collecting various data online to understand the characteristics of target customers, including gender, age, occupation, and other related preferences, and then plan marketing strategies and select products that meet the needs of target customers". Its emphasis on data analysis can be regarded as what sets apart the pre- and post-digital transformation eras. Of course, this only represents a referential line of thought in the era of digital transformation, not the correct answer to our question. At this point in time, the grantee projects still seem to regard digital tools as a temporary alternative to on-site events or to existing work models during the pandemic. Their approaches are still similar to those of the early stage of digital transformation. They have not had the opportunity or time to explore a more advanced digital transformation strategy for the performing arts yet. One benefit of digital tools, in comparison to previous tools or platforms, is that they can record objective statistical data more easily. A business perspective aside, the significance of digital transformation is that digital tools are powerful enough to help performing arts industry understand consumers' behavioral patterns and reach more potential audience members. Therefore, to more effectively and efficiently exert the strengths of digital tools, it is necessary to incorporate market/audience perspectives.
In addition, catalyzed by the pandemic, digital transformation or Internet-based diversification is to certain extent a conspicuous future trend. Therefore, the introductory text of Taiwan Entertainment & Media Outlook 2019-2023 published by PwC may be relevant, even though the performing arts are not included in its industry categories: "Entertainment & media (E&M) was the first industry to search for new directions amidst the revolutionary digital trend. However, this transformative endeavor still has a long way to go. Driven by technology and the constantly evolving consumer behavior, a more personal and personalized model of media interaction is continuously on the rise"
2
. In my view, the "personal" and "personalized" approach concurs with the emphasis on the market/audience mentioned above. While the performing arts industry is facing the issues of reshaping "liveness" and digital transformation, another key point is physical-virtual integration based on the aforementioned three models from (2). Since on-site experiences and online systems may have completely different audiences in either the international or domestic market, it is necessary to understand (or shape) the market/audience structure of the online platform as well as its difference from physical counterparts from the very beginning.
IV. Other topics related to Internet-based international exchange
(I) The content industry is closely associated with the management of "rights and privileges". The author believes that the performing arts industry can be regarded as part of the content industry in a broad sense, especially in the future Internet media environment. The leading position of the streaming service giant Netflix, mentioned for comparison with other online system models is currently being challenged by competitors. However, since its House of Cards in 2013, Netflix has adopted strategies that subverted industry conventions and may offer valuable suggestions for the performing arts industry. In short, Netflix boldly abandoned what may be called the golden rule of the film industry—the "window strategy"—which regulates the transition from public screening to subsequent screening on other platforms (TV, etc.)—and secondary product distribution, choosing instead to unwaveringly focus on an Internet platform. I believe that this approach can inspire the performing arts to think of different possibilities. Of course, this is not to encourage artists to adopt the business model of a pure Internet platform like Netflix. It means that the linear thinking to define live performance as a primary product, followed by secondary and tertiary products such as video releases, may no longer be fully applicable in the era of online media. For this reason, the diversified operations and international exchanges of the industry may require a different approach from the past. In addition, during the pandemic, the creative processes and phasic results of some international exchange projects were presented on the Internet as an alternative to on-site performances to some extent. In other words, this exchange method did not center on the finished work. It is worth exploring how this method can be developed or utilized after physical exchanges resume. Other issues that require in-depth investigation include how to manage the rights and privileges (copyrights, patents, broadcasting rights, etc.) of individual artists and artist groups in the Internet age, as well as the need to redefine and evaluate licensing in response to the rise of Internet media/platforms.
(II) The aforementioned Global Entertainment & Media Outlook 2019-2023 provides overall advice for entertainment and media as follows: E&M companies must reconsider their business and income models, be prepared for the advent of emerging technologies, adapt to regulatory changes, and build trust. Here, "trust" refers to the protection of personal data/information in the age of the Internet. It is not only a legal and supervisory issue but also an important reminder for the performing arts industry, which has begun to use Internet tools more frequently. Since individual artists and artist groups may reside either in the upstream, midstream, or downstream of the data/information industrial chain, it is important to properly protect the personal data they have obtained, pay attention to information security when transmitting personal data or streaming their works, and remain vigilant on issues such as digital addiction. These are all important issues to be addressed for building consumer trust and showing awareness on the importance of communication with audiences in the future age of media.
(III) With the rapid development of digital technology, profit-seeking businesses do not need to set up offices in countries where they seek to create markets. As a result, these countries have encountered problems including tax collection, tax base erosion, and tax loss. For this reason, the Organisation for Economic Co-operation and Development (OECD) is committed to researching and developing the Global Profit Distribution Tax System, a global uniform solution of long-term taxation, which is expected to be implemented in 2023. Although almost all online exchanges or contents/performances from grantee projects made publicly available on the Internet were free of charge, it is expected that reasonable fees for these activities and content services will be charged in the future to pursue a more financially sound and sustainable business model. When non-profit organizations such as artist groups or venues are exploring new operating models, they are also under the sway of the global trend of digital taxation. In addition to content creation and aesthetic judgment, the financial and tax impacts on the operation management of online-based performances and exchanges should also be considered in the overall evaluation.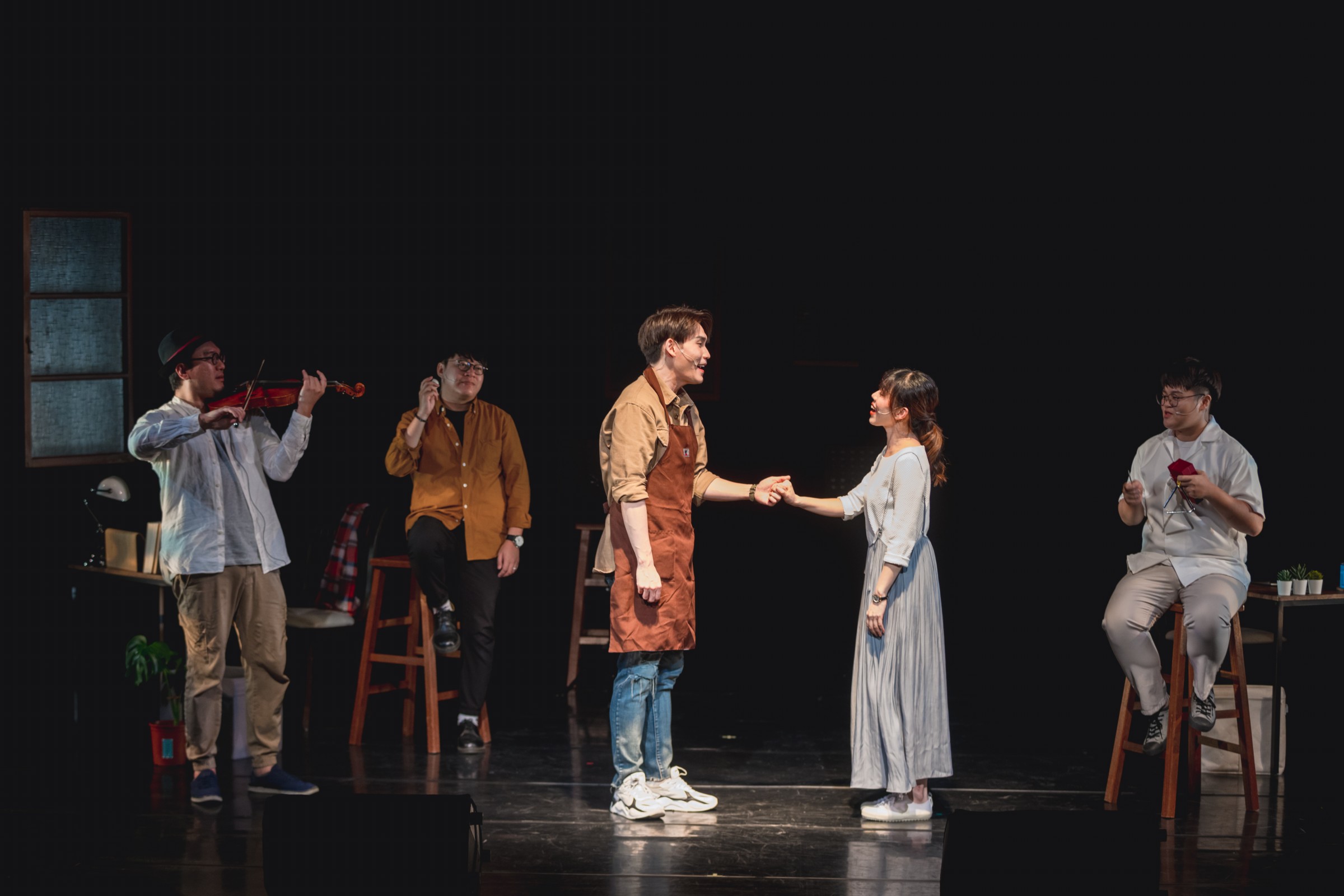 NCAF's Beyond COVID-19 Program—TOTAL Musical Theatre's script reading session and concert
Conclusion
The COVID-19 pandemic that engulfed the world should not be regarded as a contingent event in international exchange. The 9/11 terrorist attacks in the US in 2001, the global financial crisis caused by Lehman's collapse in 2008, Brexit in the UK and the Trump government in the US in 2016, and the global COVID-19 pandemic that has ravaged all nations since the beginning of 2020—all these events and changes seem unrelated at first. However, when viewed in the light of mankind's long-term development, they can be understood as reactions to the accelerated globalization caused by neoliberalism since the 1980s. The observations or thoughts above also suggest that terrorism, financial crises, or disease outbreaks may obstruct the physical communication and interaction between countries and people, but they also make us and other cultural groups or countries confront a common issue together. Moreover, on the shared space of the Internet, the technical, managerial, and financial and tax issues faced by individual artists or artist groups are more uniform than before. Therefore, concerning future international exchange activities, I believe that the most beneficial matter is understanding the limitations and boundaries of Internet tools and the operational logic of media communities. With the support of Internet and media tools, we may be able to propose a "Taiwan-style answer" to these universal issues through works/contents of performing arts or further raise a valuable and meaningful "Taiwan-style question".
[1]
NCAF's COVID-19 International Exchange Support Program has been implemented four times from 2020 to 2021 and supported a total of 131 projects. This article mainly focuses on the performing arts (music, drama, and dance).
*Translator: Linguitronics